Aviasoft Nature Explorer-1 (Flora & Fauna) v4.5
Requirements:
Windows DESKTOP or Windows MOBILE, QVGA(WQVGA), VGA(WVGA)
Overview:
Nature Explorer is a easy to use nature identification program covering six nature topics easily viewed when out walking in Europe. Birds, Butterflies, Wild Flowers, Fungi, Insects and Trees are covered.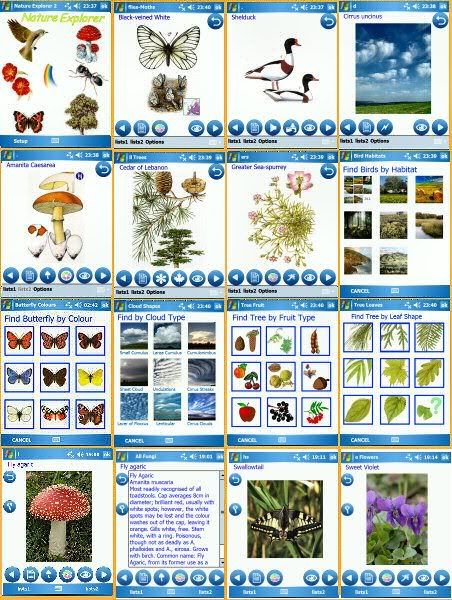 * Birds
* Butterflies & Moths
* Wild Flowers (updated)
* Fungi (updated)
* Trees (updated)
* Insects
* Bird songs included
* All photographs added for Trees and Wild Flowers
* graphical menus for choosing items by shape, colour or type
* Detailed category lists in text menus.
* Latin or English names
* All data stored on your SD Card
* Users can add their own photos
* New: quick tree finder option
* Lower memory usage
* Windows PC version redesigned for PC screen size.
More Info:
Download Instructions:
Download a full version for either Windows-PC or Windows Mobile VGA/WVGA or QVGA.
WINDOWS PC DESKTOP (106mb):
http://www.filefactory.com/file/b5432d3/n/Nature_Explorer-1_v4.5_for_PC_DESKTOP.rar
Pocket-PC VGA or WVGA (106mb):
http://www.filefactory.com/file/b54317f/n/NX1_4.5_PDA_VGA_WVGA_FULL.rar
Pocket-PC QVGA (49mb):
http://www.filefactory.com/file/b5430c4/n/NX1_4.5_PDA_QVGA_FULL.rar
SEE ALSO: Nature Explorer-2 (Earth Sciences)
http://forum.mobilism.org/viewtopic.php?f=57&t=161452
Sarah's page
here
- G & a

_________________


Aviasoft Free Nature apps at www.aviasoft.co.uk