Beautiful Widgets v2.981
Requirements:
Android
Overview:
Beautiful Widgets is a set of widgets that run on the mobile Android platform.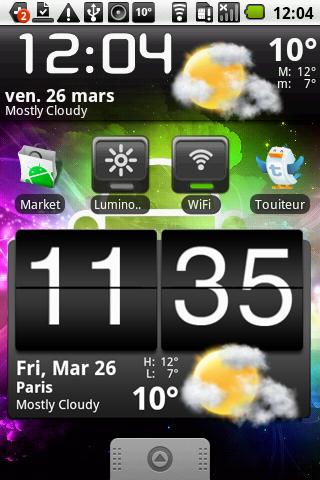 Features:
- Nice looking clock with 12/24 hours support
- Multiple layouts and skins support
- Weather with realistic icons
- Celcius and fahrenheit temperature
- Automatic language detection
- Geolocation for the weather city, or the ability to enter the city name
- Automatic sunset/sunrise calculation
- High res graphics for WVGA Devices (such as the Motorola Droid or Nexus One)
- 1x1 beautiful Wifi/Bluetooth/Plane mode/Silent/Vibrate widgets to easily enable or disable them
- 1x1 GPS widget that act as shortcut to enable or disable location in the settings.
2.98 - 20th April 2010
- Added the forecast for the current day
- Added an option to hide the background (naked skins)
- Added an option to change the background opacity
- Fixed a force close when updating the weather in some conditions
- You can now clear the selected apps to get back to the default app when tapping weather, date and time
- Fixed a bug where the geodecoding cannot get the postal code and was crashing the weather
- Fixed weather for Singapore
- Forecast layout fixed for the QVGA devices
- Surprise still under development!
Release BW 2.981 with a fix for forecast and Android 1.5 (still the same guilty!)
More Info:
Code: Select all
http://levelupstudio.com/widgets/weather
Download Instructions:
http://www.megaupload.com/?d=004U5ERO
Mirrors:
http://depositfiles.com/files/3nc0814tc
Support the software & game developers. If you like it then buy it!
Please respect the original links, thanks.