I-Doser collection 2012 v1.05
Requirements:
Windows Mobile 5 or above with .NET Compact Framework 2.0 or later and Pocket Internet Explorer, all screen resolutions supported.
Overview:
Now, for the first time ever on Windows Mobile, you can have the ENTIRE I-Doser collection to take with you on the go! Don't fall for those fake releases claiming 150 doses when they have 100 duplicates; this is THE REAL DEAL!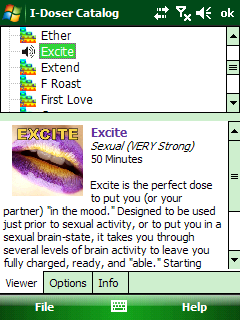 Featuring a lightweight catalog viewer, you can keep your I-Doser doses on hand and ready to dispense in an instant. Multiple sorting options and an intuitive informational display make it a pleasure to use!
What is I-Doser?
I-Doser Labs is the leading producer of Binaural Brainwave CDs and computer applications. Using proven, scientific, and safe methods of synchronizing your brainwaves; a simulated state can be achieved through the use of our advanced audio CDs, or the I-Doser Application, and a pair of high quality stereo headphones. Our Binaural process has been refined with years of research and development. With thousands of satisfied users, the I-Doser Labs CDs, MP3s, and the I-Doser Application for PCs continue to lead the industry as the only safe and effective method to achieve a simulated mood or experience.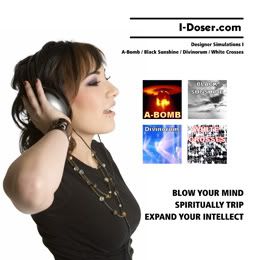 For more information on I-Doser and this technology, go to their FAQ page:
http://www.i-doser.com/faq.htm
More Info:
Download Instructions:
Download, install, turn down the lights, get comfortable, put on some earphones and enjoy!
Completely UNINSTALL any previous versions
before installing v1.05 as the old v1.00/v1.01 SBG Scripts are no longer compatible with v1.02 or above!
Code: Select all
http://www.rapidshare.com/files/3918978215/WM.I-Doser.Collection.2012.v1.05.RETAIL-ShareFree.rar
Additional Files:
Retail I-Doser Guide Book (PDF):
http://www.mediafire.com/?oqgk1jmjt0n
Contributed by pbelgium
Manual for "You-Choose" dose:
http://rapidshare.com/files/348068392/Y
... Manual.txt
Mirrors:
http://ul.to/gahss0sg/WM.I-Doser.Collec
... reFree.rar
http://ul.to/6fio5842/You-Choose_Manual.txt
More mirrors:
WM.I-Doser.Collection.2012.v1.05.RETAIL-ShareFree.rar - 7.8 MB
You-Choose_Manual.txt - 5 KB
Post rewarded by Broad on Mar 19th, 2012, 8:05 am.
Rewarded 25 WRZ$ for Version Update
Last edited by
Guy1731
on Mar 2nd, 2013, 8:36 am, edited 22 times in total.
Reason:
Mirrors added.